#48: Carley Smith | The Fairy Gut Mother
Carley Smith (aka Fairy Gutmother) is a Nutritional Therapist, Certified GAPS Practitioner, and Registered Yoga Teacher.  After using nutrition to heal her own debilitating lyme disease, she decided to dive deep into the world of the microbiome and help others reclaim their digestive gut health.  She is a wealth of information, so prepare to take some notes!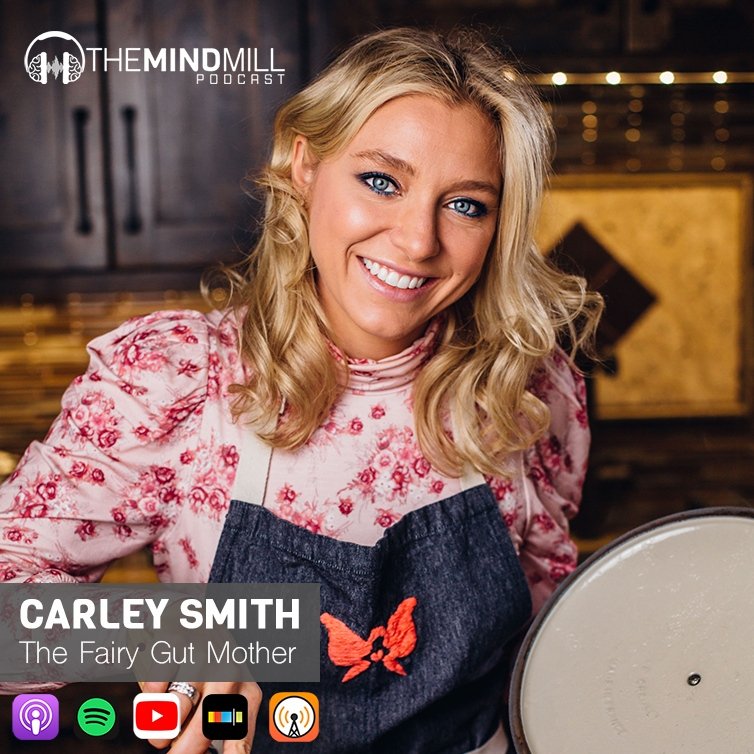 Carley Smith, AKA Fairy Gutmother® is adamant about promoting the gut health lifestyle. More than a diet, it is rather a combination of food and environment that play a role in the health of the microbiome.
A Nutritional Therapist, Certified GAPS Practitioner, and Registered Yoga Teacher, Carley became interested in health and nutrition after being diagnosed with Lyme disease. She began using food as medicine, emphasizing gut digestive health. Becoming so empowered in the progress of healing solely based on diet, lifestyle changes, and gut health, she started her business, Fairy Gutmother®. In so doing, she could spread awareness around nutrition and help others.
She has been a featured guest on The Dr. Oz Show and is a frequent guest for Colorado's Own Channel 2 News, and the popular iHeart Radio show Modern Eater.
Her articles have been published in major worldwide publications including MindBodyGreen, Yoga + Life Magazine, and Paleo Magazine to name a few. Carley leads numerous workshops, public speaking events, and cooking demonstrations centered around the gut health lifestyle. She also enjoys yoga, fishing, hiking, golf, cooking, and spending time with family and her dog Marty.
Carley is a wealth of information, so prepare to take some notes! You can view more on her website www.fairygutmother.com.
I loved this conversation.  Not only do we go deep on gut health, we also discuss bridging the gap between homeopathic and conventional medicine, and the immense power of a mindful eating practice.  Enjoy!
---
The MindMill Podcast on Youtube
SHOWNOTES
1:14   Podcast begins
2:50 Carley's story
4:30 All disease begins in the gut – so start there
5:40 Gut health isn't just diet, but lifestyle also
6:50 Choosing conventional medicine or natural health
7:22 Gut health as supplemental care
9:30 Bridging conventional physicians and holistic approaches
11:50   Book – New Biology
12:55 Shift towards holistic inclusivity
15:00   How to understand your gut 
15:50 Proteobacteria – lifestyle bacteria
16:25 Red flags of gut health
17:17   Gut basics: heal the gut lining and then repopulate your biome with healthy bacteria
19:10 Discipline and diet
21:15 Needing time for dietary self care
22:22 Method: eliminate processed foods, sugars, and artificial ingredients. Add nutrient-dense foods and probiotics
24:18 Need for fiber
25:20 Knowing cooking oils
26:50 Risk of prepared foods – knowing your ingredients
28:50 Kombucha and sugar
31:30 Too many probiotics – is there such a thing?
32:42 Probiotics vs. Prebiotics vs. Postbiotics
36:12 Insoluble fiber vs. soluble
38:10 How did we get to this point of poor gut health?
42:00 Role of moderation: 70/30 approach
43:00 How to make healthy food taste good
46:00 Dirty questions: colon hydrotherapy and fecal transplants
50:10 Acupuncture and gut health
52:30 Gut/brain connection
55:10 Mindfulness lifestyle: presence and intention
56:50 Prayer, intentional eating, mindset and their effects on the body
1:02:15 Conclusion
---
Links:
Social Media: Instagram/Facebook @fairygutmother
Website: www.fairygutmother.com
---
For all MindMill Episodes Click Here!