#35: David Blutenthal | Harnessing Habits to Become Our Best Selves
David Blutenthal is a serial entrepreneur, super-connector, and founder of the Habit Hackers Summit. David and Seth discuss the impact of routine in their own lives, what led to the creation of Habit Hackers, and the critical importance of owning daily habits.
Oh man I'm excited for this episode!
Not only is this episode with one of my favorite people, but it's also glimpse into an upcoming event that the MindMill will be participating in.  Im talking about Habit Hackers, a day long conference dedicated to working with the routines that shape our lives.  With the first ever Habit Hackers summit coming up in Denver Colorado, I sat down with the creator, David Blutenthal, to discuss what inspired him to start this project, what we can expect from Habit Hackers, and why directing our habits is more important now than ever.  A quick side note: The MindMill podcast strives to keep its content evergreen, meaning it maintains its relevance and value no matter when an episode is listened to.  Although this episode discusses an upcoming event, I assure you, the topics we cover aren't expiring.  We are our habits, from brushing our teeth to how we view ourselves.  In essence, habits form our entire lifestyle and personality.  This episode dives right into that, from a scientific approach, as well as personal.  Im so excited to be a part of Habit Hackers, and to share this interview with its creator.
Today's episode is with David Blutenthal. David has been in the entrepreneurial world for over 15 years, and has worn nearly every hat there is. He cut his teeth in the music industry; representing artists, creating music tech platforms, and spear-heading marketing campaigns. He now holds the position of Head of Product at Levo Oil Infusion Inc, a company on a mission to create the world's premier infusion lifestyle brand – becoming the source of truth on the topic of and access to, affordable plant-based wellness. Throughout David's career, he has become quite aware of the habits that form effectivity in both life and in business. It's this fascination and introspection that inspired him to create habit hackers. Under David's leadership and vision, Habit Hackers has developed into a premier event for self-improvement and routine manipulation. The speakers, contributors, and workshops are stellar; and I am honored to be part of it. So without further a-due, my conversation with David Blutenthal.
SHOWNOTES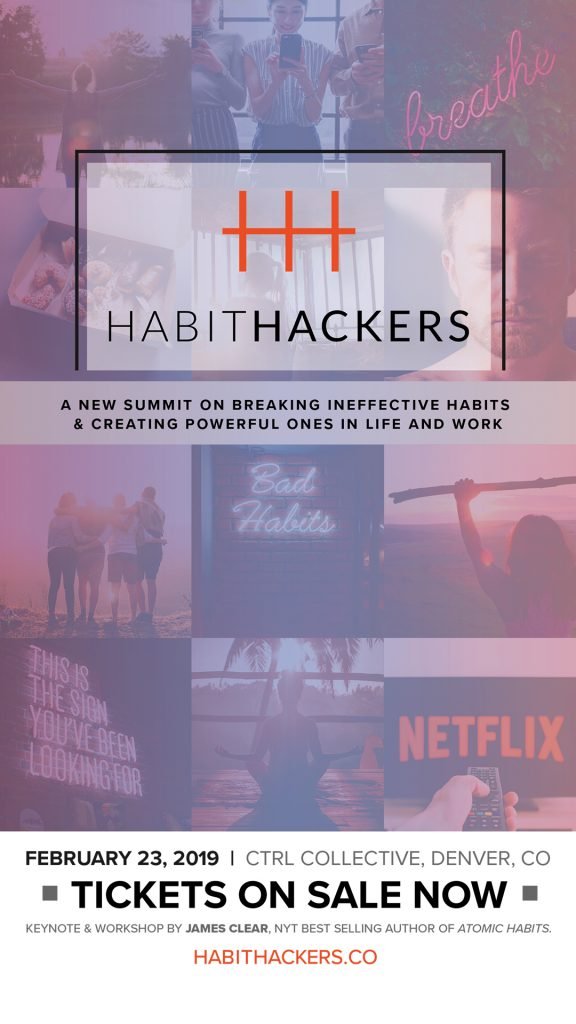 ABOUT HABIT HACKERS
Why does it seem out of reach to be able to break bad habits and build healthy habits that stick for longer than a few weeks or months?

All human beings are creatures of habit. Some habits are effective – others are not. Most ineffective habits form without our awareness, and they hold us back in life because we don't have the tools to break them. Our habits live in our blind spots. We see ourselves engaging in these disruptive patterns and it leaves us feeling stuck, powerless, and lacking control. For many of us, our habits around technology use has spun out of control. For others, habits linked to procrastination, diet, and interpersonal communication are blocking us from living out our dreams.

If habit mechanics don't become part of the mainstream conversation we'll see a society that grows deficient in impulse control, productivity, physical health, self-efficacy, and starved from true connectedness to others.

This is why we're hosting Habit Hackers – the first-of-its-kind personal growth summit all about habit training. Come participate in a transformational day of expert speaker sessions and workshop that will give you the tools you need to break ineffective habits, and craft powerful new ones for a life of continuous improvement.
DAVID BLUTENTHAL BIO
Facilitating memorable, entertaining, useful, and engaging consumer experiences — this is what inspires me to create work that matters.

Through this lens, I have spent the last 15 years shaping the careers of emerging recording artists, building music-technology startups, creating tech products, galvanizing communities, spearheading innovative marketing campaigns, and leading cross-functional teams.

I'm currently Head of Product for LEVO Oil Infusion Inc., where we're on a mission to create the world's premier infusion lifestyle brand – becoming the source of truth on the topic of and access to, affordable plant-based wellness.

People who know me well would say my entrepreneurial successes have resulted from my creativity, resourcefulness, drive, resiliency, relationships, leadership, adaptability, and the ability to inspire others to be their best selves.

I hold an MBA with a concentration in Entrepreneurship from Babson College and believe that action trumps everything when it comes to seeking truth, challenging assumptions, and creatively solving problems. I approach business and life through an optimistic, open-minded, collaborative lens, and believe one should never underestimate what wisdom even the most common person can impart on you.
Connect with David Blutenthal
---
Thanks so much for listening to The MindMill Podcast!
For all MindMill Episodes Click Here!